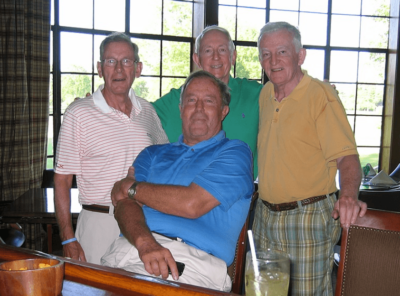 Celebrating the Life of Thomas J. Welling
Thomas J. Welling passed away peacefully on Saturday, March 26, 2022 at the age of 78. He was joined at his bedside by his adoring wife, Helen and sons, Kurt and Thomas, who are consoled knowing Tom joins Kate, his beloved daughter, in heaven. Tom fought a courageous battle against leukemia over the past few months with the same determination and grace that he lived his life. While we were robbed too early of a remarkable man, we are blessed by the life he led.
Kind and generous, Tom set the standard as a son, a student, track star, entrepreneur, husband, father, grandfather, and friend. Born in Brooklyn, New York on February 10, 1944 to Evelyn and Herbert Welling, he grew up in Greenpoint, Brooklyn with his sisters Diane and Karen, and brother Jim. Tom attended St. Francis Preparatory School, where he excelled as a student and athlete. As an undergraduate at Manhattan College, Tom was one of the most decorated collegiate runners in the history of the college's Men's Track and Field program. Tom set multiple course and school records and competed in the New York AAU, National AAU, and NCAA Championship in outdoor track.
In 2017, he was welcomed into the Manhattan College Athletic Hall of Fame. After earning his B.S. in Mathematics in 1965, Tom served in the United States Army Reserve and as a high school math teacher in New York City after which he went into the insurance business. In 1978, Tom founded Welling Associates, which later became GBS Retirement Services, Inc, where he served as President until his retirement in 2002.
Tom enriched the Bronxville community, where he lived since 1981, by serving as a board member for multiple organizations, including: New York – Presbyterian Lawrence Hospital, The Bronxville Historical Society Conservancy, Stellaris Health System, Lawrence Community Health Services, Search for Change, the Bronxville PTA, Public Library, and Siwanoy Country Club. Tom was also a member of the Bronxville Men's Book Club, Bronxville Non- Partisan Committee, Philanthropic Leadership Council for Children's Hospital at Montefiore, and Bronxville Derby. Tom served as Chairman of the Lawrence Community Health Services, where he and Helen took particular interest in the work of the Bereavement Center of Westchester.
When speaking at his retirement dinner Tom said, "Many of you have probably heard the expression: "The winner is the one who dies with the most toys. I like toys as much as any over-age adolescent, but I prefer this variation on that theme: The winner is the one who lives with the most joy."
Tom's joy came from his family and friends. From summer vacations on Cape Cod, to golf, fishing, and ski trips, Tom wanted nothing more than to see those around him enjoy life and flourish. While admittedly not the best golfer, fisherman or boater, he was able to impart upon his children and grandchildren the lessons that matter – be kind, work-hard and do the right thing.
Tom's survivors include Helen, his wife of 42 years, his sons Kurt (Chelsey) and Thomas (Erin), his grandchildren Reese, Chase, Caroline, Whitney, Saegan and Ellison, and his sisters Diane and Karen. Katie, Tom and Helen's daughter, died on April 10, 2005. He was also predeceased by his father Herbert, his mother Evelyn, and his brother, Jim. Tom will be missed and mourned by all who knew him.
Calling hours at the Fred H. McGrath & Son Funeral Home, Bronxville, NY between the hours of 2 to 4pm and 6 to 9pm, Thursday, March 31, 2022. Mass of Christian Burial at the Church of St. Joseph in Bronxville, NY, on Friday, April 1 at 10:45am. In lieu of flowers, please donate to the Bereavement Center of Westchester, 670 White Plains Road, Suite 213, Scarsdale, New York 10583.